Handpicked Ingredients
Raw materials are carefully handpick from the farms, tested at our highly equipped lab to formulate our medicines with its purity. We are also cultivating fresh herbs.
Traditional methodology
Our medicines are formulated as per the instruction obtained from source books of Siddha and Ayurveda.
Extensively Tested
Our medicines are efficiently tested from various accredited laboratory around the world.
Workforce
We always believe in women empowerment so more than 95% of our industry are of women.
Environment positive
Our industry aims at reducing the carbon footprint by planting more than 50000 trees in and around the locality. More than 60% of our energy consumption is from solar power
Affordable price
We at Aravindh herbal aim to make our products affordable by cutting miscellaneous costs coming from marketing and packaging.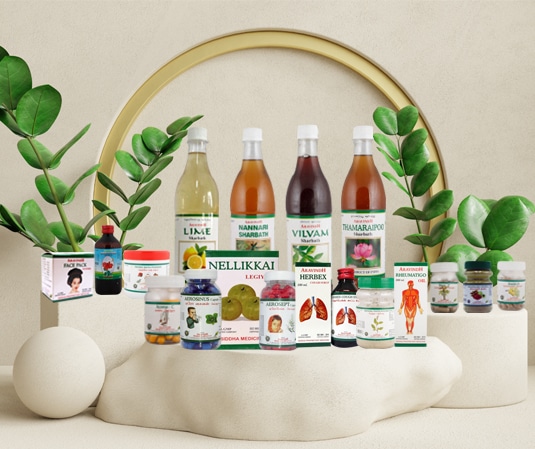 Aravindh Herbal Labs (P) Limited is a reputed manufacturer of Indian traditional medicines of Siddha and Ayurveda. Founded in 1992 by Dr P Rajalingam, a traditional medicinal practitioner, Aravindh Herbal functions with the AHA mission of producing "Affordable, Holistic healthcare products for All".
We produce over 600 Siddha and Ayurvedic Medicines, Personal care, Home remedies, Health Food & Nutrition products, and traditional lifestyle products from our manufacturing unit in Rajapalayam, Tamil Nadu.
Consult our Doctor Free
We have specialist doctors to consult, the symptoms of sick and advised to have appropriate medicine, preparations used with Siddha, Ayurvedic, and Homeopathic System. Our Doctor's Available all day from 3 p.m to 5 pm.
Research – Traditional Medicine
The research was undertaken to improve the medicinal effect of available herbals by way of adding extract and triturating them to improve the quality, improve the effect of final drugs in minimum dose by way of powerful magnets, to prepare equal material (vaipu) for unavailable and banned raw drugs, and Cultivation of herbals in organic methods.
Educate – Traditional Medicine
We are conducting regular classes for interested persons about our traditional system of medicines, herbals, body anatomy, physiology, and Nadi Sasthirma to make them self-healer to their family members and society. In addition to that, we are conducting diploma courses in naturopathy, herbal medicines, and Ayurvedic Panchakarma therapies, which is ongoing.
Make it Yourself
Make it yourself - Aravindh Herbal labs traditional and herbal medicines
Our Happy Clients
Very good response attending through phone calls by staff. A good delivery system through online purchase.
It is a reputed manufacturer of Indian traditional medicines of Siddha, Ayurveda and Homeopathy.
The product is really good. Worth to buy all health-related items.
Keep up the good work, Aravindh herbals team!